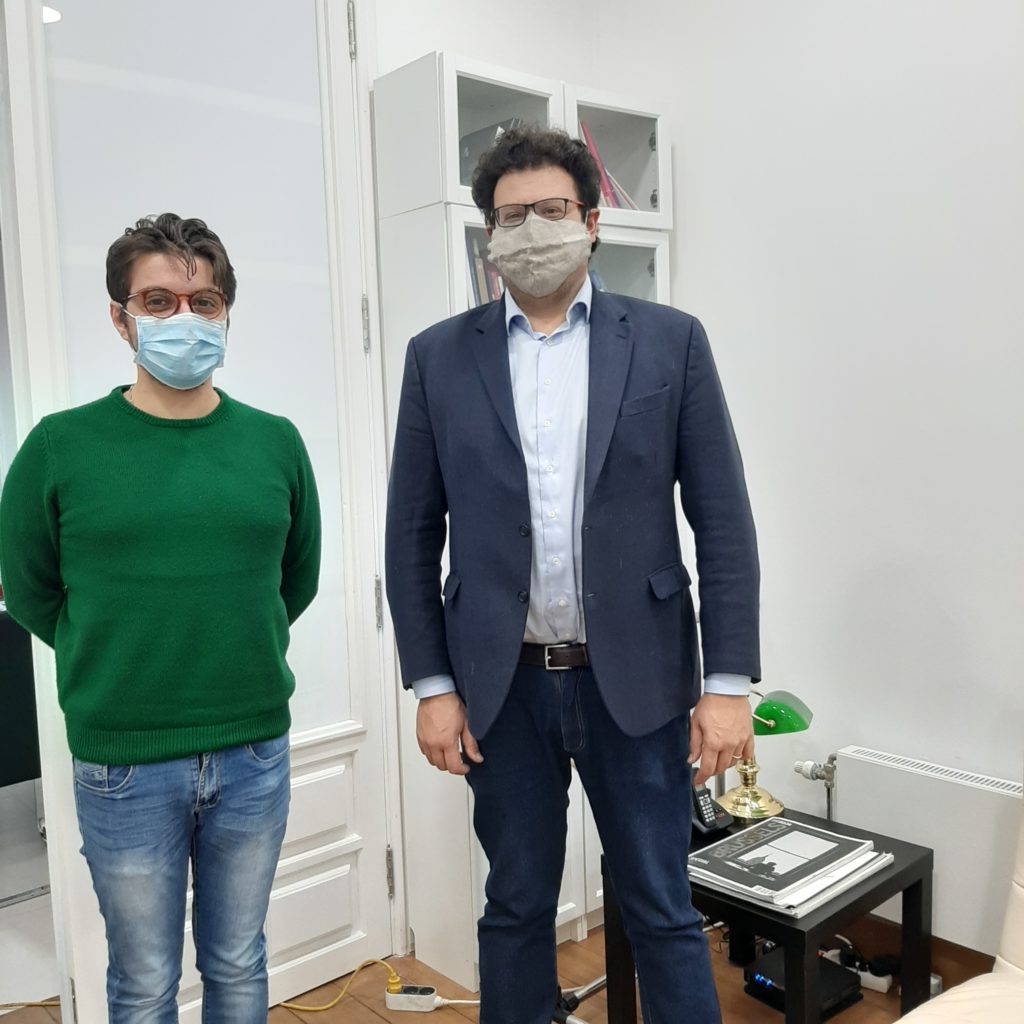 New Entrepreneur
Name & surname: Antonio Pepe
Country: Italy
Age: 29
Status: Entrepreneur
Sector: Consulting in European Project Management

Host Entrepreneur
Name & surname: Andrea Boffi
Country: Belgium
Age: 34
Experience (years): 11
Sector: Consulting in European Project Management
Name of business: AB Corporation
Website: http://ab-corporation.com/
Period of Exchange: 12.10.2020 – 09.04.2021
Duration of exchange: 6 months
How has Andrea found a future partner for European Project Consultation?
The NE Antonio Pepe from Italy discovered about this opportunity during a training event focused on European Project Management. He participated in order to become an EU Project Consultant specialized in funds for Italian Public Administrations. The expected benefits were to get project management skills, refine the business plan and establish a network of contacts to start his business.
The HE is Andrea Boffi, founder and CEO of AB Corporation, a consulting company specialized in EU Project Management and Public Affairs in Brussels (Belgium). He discovered this opportunity through his IO the CCITABEL, because Andrea is one of the lecturers of the CCITABEL masters and courses. He participated in order to discover new opportunities for public administration and look for new clients to develop his own business and develop a transnational collaboration. The HE expected to develop a EU funds strategy for the public sector together with the NE, establish new contacts for future collaboration or partnership, creating new business opportunities.
The two entrepreneurs have collaborated in activities such as counselling potential clients about funding opportunities and EU policies, preparation of commercial presentations, organization and preparation of commercial call, writing project proposals, writing newsletter and communication contents about EU policy development and programs, collecting information on projects for clients, following EU events and writing reports. In addition to this, the NE has refined his business idea and collected data and information useful to build his business and check its feasibility. Along the period, the NE had moments of continuous confrontation, constant feedback and mentoring with the HE.
After the end of the program, the HE and the NE are still working together in Brussels. In the future the two entrepreneurs will continue to collaborate. In the meantime, since the NE wants to consolidate his project management skills and expand his network, he has chosen to look for a job that allows him to get to know the EU Public Affairs in depth. Indeed, starting from May 2021, the NE will begin working at European Parliament in the MEP's office for EU funds sector for municipalities and companies.
Concluding Remarks
Andrea Boffi (HE): "Exchange is the key. Antonio brought a great added value to AB Corporation and its team. His positivity and professional know-how have been extremely positive for the company activities. Pro-active and great communicator, I wish he could stay with us more."
Antonio Pepe (NE): "Enriching for my personal and professional growth. Working for AB Corporation a small, but dynamic company, has been really stimulating since I was everyday involved in new projects and subjects. Andrea has been outstanding for his leadership and mentoring skills."