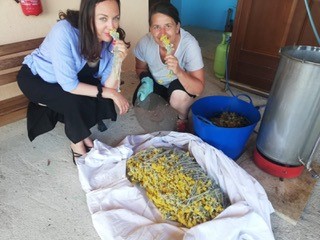 New Entrepreneur (NE)
Name & surname: Marija Tadić
Country: Croatia
Age: 40
Sector of activity: Health and beauty
Did you already start your business? yes
Name of business/website: Primitvance / www.primitivance.com
What is your future business? Primitivance d.o.o. is engaged in the production of luxury natural cosmetics with formulations designed to grow all raw materials in Dalmatia so that in one of the next phases we can move production right there and thus complete the cycle of sustainability. It is imperative in production to exclude popular ingredients from other climates and to use only raw materials belonging to the Dalmatian climate
Host Entrepreneur (HE)
Name & surname: Jana Bergant
Country: Slovenia
Sector of activity: Health and beauty
Experience in running a business (in years): 7
Name of business/website: Histria Botanica / www.histriabotanica.si
What is your business? Histria Botanica is a small company in Slovene Istria region, near Adriatic sea, that focuses especially on the recognition of hydrosols and their use in everyday life, as well as the responsible attitude to and use of essential oils by individuals.
Period of exchange: 18.03.2020 – 17.09.2020
Duration of exchange: 6 months
Is it possible to learn and at the same time actively participate in the development of new products and offers in the natural cosmetic products' sector?
During the 6 months of the exchange the two entrepreneurs were focusing on securing Marija with a professional and entrepreneurial mentorship in the field of development of a natural cosmetic products line and marketing it, particularly through digital marketing. Although the COVID-19 situation challenged both entrepreneurs to perform the relationship partly on site and partly remote, activities performed by Marija under Jana's mentorship included market analysis, the search for new markets and developing market niches as well as a search for improved visibility of the products offered by both entrepreneurs. During harvest season, Marija had the chance to be mentored by Jana on the cultivation and processing of herbs as well as on the production of quality hydrosols and essential oils. Further on, they worked together on storage, packaging and shipping to the end customers. They focused also on the procedures for registration of cosmetic products and liaison with partners, especially the Faculty of Pharmacy in Ljubljana. Marija got the assistance and advice of Jana for the implementation of a new product on the market. Above all, a strategic approach to eventual wider sales, pricing policy and marketing was developed.
Jana helped the young Croatian entrepreneur to learn sales and marketing strategies from a technical perspective and with the use of the internet and opportunities offered by the new media. At the same time, during the exchange they enjoyed the unique opportunity to establish new relations with key market players and secure good contacts with them.
Thanks to a very prolific collaboration, the two entrepreneurs managed to get a more in-depth understanding of the relevant Mediterranean region with its agricultural specifics and rich cultural heritage. Besides the transfer of knowledge and experience, the main achievement was a finished product with a limited series, which Marija successfully placed in a prestigious tourist resort on Hvar, Croatia.
They strived to conceive and develop new business opportunities in the field of natural cosmetic products in Slovenia and Croatia, with a potential extension of such business to other European markets in the coming years.
Concluding Remarks
Jana Bergant (HE): "I applied to become a mentor in Erasmus for Young Entrepreneurs programme with the idea to provide mentorship to young entrepreneurs. I am fully satisfied with this choice and I must say that it was a pleasure to work with Marija. She showed a strong interest in aromatic plants, natural cosmetic products and business development in the field of hydrosol and aromatic essential oils. I can say that it was a mutual sharing of knowledge and experience, as Marija has a lot of experience in the field of creativity, design of products and packaging, which has benefited also me in my activities. This helped in establishing a fruitful collaboration between us – a collaboration that will extend into our common future efforts to combine sales channels and get success on the market."
Marija Tadić (NE): "This experience helped me to better envisage and upgrade my initial ideas with respect to my business project in Croatia. In particular, on the basis of a daily communication and effective cooperation with Jana, I was able to learn sales techniques and marketing strategies in the field of natural cosmetic products and other related products. The exchange was brilliant, and at the end of it I feel fully motivated and professionally stronger as well as prepared to further collaborate with Jana on launching new products on the Croatian and Slovenian markets!"