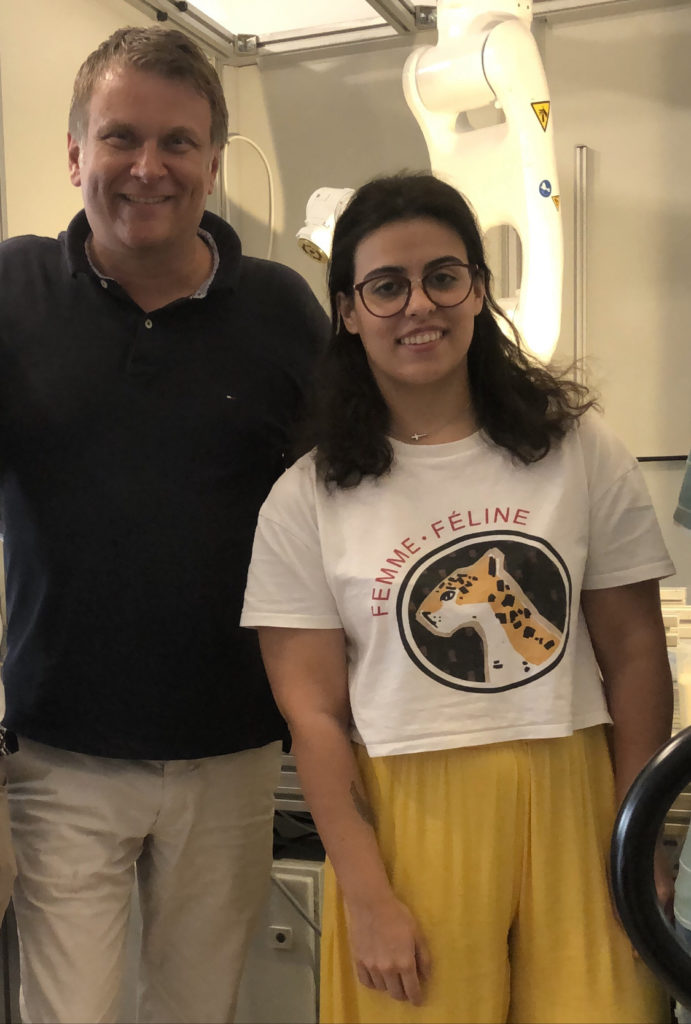 New Entrepreneur (NE):
Name & surname: Kristina Nikolovska
Country: Slovenia
Age: 26
Sector of activity: Robotics and automation industry
What is your future business? Offering smart robot solutions
Host Entrepreneur (HE):
Name & surname: Stefan Zeidler
Country: Germany
Sector of activity: Robotics and automation industry
Experience in running a business: Entrepreneur since 2004, Robotcloud since 2016
Name of business/website: Robotcloud / https://www.robotcloud.eu
What is your business? Offering smart robot – solution for the food industry
Period of the exchange: 03/02/2020 – 17/07/2020
Duration of the exchange: 5,5 months
Which practical experience did Kristina Nikolovska gain in the robotics industry through the collaboration with Host Entrepreneur Stefan Zeidler?
Kristina Nikolovska has finished her master's degree in Robotic at the Faculty of electrical engineering in Ljubljana. During her studies she took part in different projects and student associations. She enjoys working and developing new ideas in robotic and in general. Her wish is to become an entrepreneur. She wanted to test the field of creating her own start-up where she will offer a robotic solution to the industry. But she felt like she was missing experience in order to become a successful entrepreneur in Robotics. She was excited to learn about the program and she decided to register for it. She wanted to get the experience in Munich, Germany. She sees Munich as a capital of technology start-ups. Luckily, she found a start-up named Robotcloud that had also registered for the program as a host company and was in the field she wants to work in.
She contacted Stefan, who is one of the founders of the start-up and the CEO. The team was very enthusiastic about participating in the program. In February 2020, she started her entrepreneurship program in Munich, Germany with the start-up Robotcloud.
Robotcloud is a start-up founded in 2016. It is a young start-up that is now growing. They are delivering full robotic solutions and automation of processes. For some time, they have searched for the right approach to the sector. They have been working on different projects in different fields. Now the main industry field of the company is developing robotic solution for factories in the food industry. Their goal for the future is to have an artificial intelligence-solution installed in the food industry which can be quickly trained to handle different kinds of ingredients and types of food and allows to emulate complex human motions.
Kristina has joined the team in a very exciting time, when Robotcloud got a big project with a frozen-pizza factory. During the exchange period, Kristina had the opportunity to work in the technical development of the solution but also in the project management, which included contact with costumer, supplies, and different organizational tasks. She got to see how a team in this industry works and what the responsibilities for the different team members are, from sales to development, engineers, CEO. She got to see how a start-up develops and grows. And she got the experience of taking part in the development of a solution from the idea to testing and to the delivering the solution. Kristina was also able to improve her communication skills. She got a better understanding of the industry, a better understanding of how to create a relationship with the costumer and how to create an offer and expenses of a solution. She also got to improve her technical skills in programming and robot operation systems. She learned all the steps of developing a solution.
She was also part of a growing company in the challenging time of a worldwide pandemic. Even with all the happenings in the world, the company managed to keep working and delivered the first solution on time. At the beginning of April, due to the Corona crisis, Kristina was working and cooperating for about 2 months of her exchange remotely with the team. But after some time working remotely, she and the team were back in the office.
"Looking at the collaboration I could say I learned a lot. And with that knowledge gained I have a better picture of running a start-up in the robotics industry. Being an equal team member in the team and getting to work in a start-up as it was my own really gave me an overview," said Kristina.
"Kristina joined our team and actively asked us to be involved in all main activities. She was especially interested in learning about our technical topics. So, we were able to participate in development activities around optimising data pipelines and the code base for one of our neural networks for object detection. She, on the other hand, was involved in financial planning and effort tracking and project controlling. She also was helping with prototyping of hardware solution and conceptional development of robotic actuator solutions which involved hands on testing even of different food ingredients. It was a lot of fun and encouragement to have her around. Also, she was helpful in organising some of our controlling processes. We have been very delighted for the positive spirit and support by Kristina, we are sure she has learned a lot and also gained some insights into topics hard to learn at university, which are very important to build a company (like dealing with customers and building a founder team)," said Stefan.
The exchange ended in the best way possible. Kristina has a great connection with the team. Kristina and the Robotcloud- team set the possibility of collaborating again in the future.
After her EYE exchange, Kristina decided to get more experience working in the industry. But she also has a plan to start working on market research and finding her field to create her own robotic solution. Her goal is to start running her own start-up within the next couple of years.
Concluding Remarks:
Kristina Nikolovska (NE): "I am very happy I got to do this program. I have gained a lot of knowledge about the robotic industry and how to run a start-up. Also, I got to improve technical skills and programming skills. I would encourage young people who are excited about becoming entrepreneurs and want to gain skill that they will never be able to gain otherwise to participate in the program. I had a very positive experience with the HE and the team because they accepted me as a part of the team. They divided the tasks and shared knowledge with me from the first day. Participating in the program was one of the best decisions I could make after graduating. With the knowledge I gained I feel more prepared now for the industry and for running my own business."
Stefan Zeidler (HE): "We are very grateful that Kristina joined us as a NE. Being a small start-up it is always great to get an outside perspective and have new ideas from an NE. Kristina was part of our team, joined all our internal meetings and discussions and went with us to our customers and suppliers. In such a way the program gives young graduates a great way to experience the life in a start-up. I would encourage everyone who is interested in creating a start-up by him- or herself to participate in such a program."