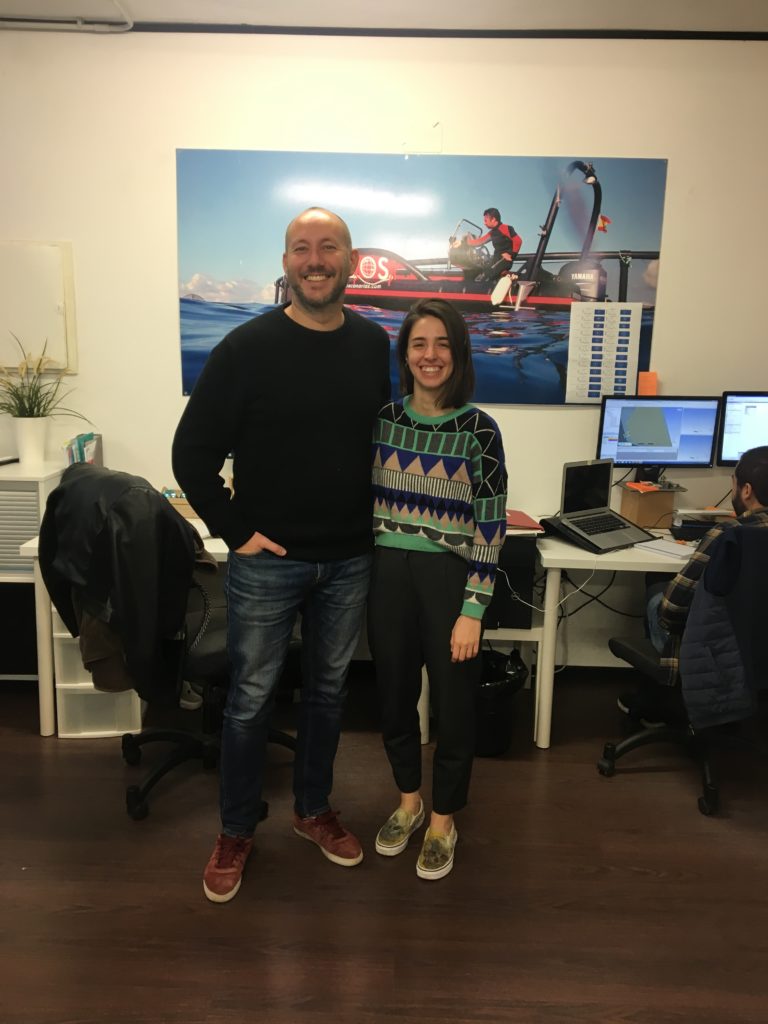 New Entrepreneur (NE):
Name & surname: Viola Orgiano
Country: Italy
Sector: Graphic design and architecture
What is your future business? I would like to become a freelance graphic designer.

Host Entrepreneur (HE):
Name & surname: Manuel Ruiz de la Rosa
Country: Spain
Sector of activity: Environmental consultancy and water technologies
Name of business: Ecos – Estudios ambientales y oceanografía
What is your business? ECOS is an environmental, coastal engineering and R&D consulting agency for enterprises and public bodies based on Canary Island.
Period of Relationship: 25/02/2019 – 26/07/2019
Duration of Relationship:5 months
What did Viola learn about visual and communication design through her multidisciplinary and international experience in her host company in Spain?
Viola is a 25-year-old graphic designer and junior architect from Sardinia, Italy, who discovered the Erasmus for Young Entrepreneurs programme thanks to the network of youth organizations TDM 2000 International, in which she has been working in the field of national civil service. Being extremely motivated to improve her skills in the field of visual and communication design and being her first experience living abroad, she decided to apply on the platform in September 2018.
Manuel Ruiz is the CEO of ECOS – Estudios Ambientales y Oceanografía, an environmental consultancy company and coastal engineering and I+D solutions developer, specialized in the marine sector based on the Canary Islands.
On a Saturday evening in September, Manuel contacted Viola to propose a collaboration. He was looking for a young and creative talent who could be involved in the process of international expansion and growth of the enterprise by collaborating in the implementation of the brand positioning and marketing strategy. This email changed Viola's life: in fact, for her it meant to build the basis to set up her own enterprise in the immediate future, benefiting from this experience and sharing with the HE the responsibility of taking care of the image of a well-established and successful company in several ways with a sensitive approach.
At the same time, Manuel was expecting from the collaboration an open door to new trends and tools on the marketing and design field, that could largely contribute to ECOS' branding and marketing strategy. Also, Manual was really interested to host someone from another country with a different and fresh view of his business.
In spite of the several proposals she received from all over the European Union, Viola decided to leave her island in order to live 5 months on another island, Gran Canaria, and collaborating with Manuel and his team. Viola flew to Las Palmas de Gran Canaria in February 2019, where she met Manuel and his team.
During the five-month collaboration, Viola was involved in the different aspects of the company's activities: the development of the new brand identity through the production of new visual material and the social media management of the main web channels of ECOS.
Viola was able to produce new promotional material for the enterprise, both concerning the consultancy side and the engineering side of the work of the company. She also added new creative content to ECOS' LinkedIn page, visibly improving its engagement rate. Finally, she was able to produce the company's corporate video, a goal set out in the last few months of the collaboration. She was always supervised and supported by Manuel and the ECOS team in achieving her fixed tasks, creating a synergic and trustful relationship between the New Entrepreneur and the company's team.
During the exchange period, Viola had the opportunity to join the "life of the place" – the Canarian carnival. She was able to meet new people from the island (professional contacts and other acquaintances) as well as people from the Erasmus network, making new friends with which she is still in contact today. She also explored some of the other Canarian islands during her freetime, like Fuerteventura, Lanzarote and Tenerife, meeting new people and new cultures and collecting reasons to come back one day.
The exchange ended in the best way possible: both Viola and Manuel achieved their concrete objectives. Viola was able to learn more about visual and communication design in another country. She also added to her personal knowledge and experience the capacity of working in an international and multidisciplinary environment and improved her Spanish language level. Manuel reached the objective of improving the image of his business and adding a new audience to the network through the promotional and creative materials that Viola created for the business. He also gained a new professional in his company that he did not have before.
Viola and Manuel have set the possibility of collaborating again in order to develop new materials in the future.
Viola's return flight to Sardinia landed in the early morning of 30 July. She brought home not just the strong emotions she had lived through during the exchange months, but also the hope to come back one day in order to visit Las Palmas and the Host Entrepreneur's crew again.
After this experience, she decided to finish her architecture studies in Italy before developing her own business, being aware of how many new skills this experience had given her and how much she had improved her competences in the architecture field. Manuel keeps running his business and, also thanks to the successful experience with Viola, has hosted another New Entrepreneur from Italy, trying to improve his business with a different professional focus, but with the same spirit and hopes.
Concluding Remarks

Viola Orgiano (NE): "It has been a great opportunity for me to collaborate with my Host Entrepreneur in ECOS. Sharing my passion for my profession in a multidisciplinary and intercultural environment has been an experience which is going to be really relevant in my future as an entrepreneur."

Manuel Ruiz de la Rosa (HE): "Viola has brought us a lot in a short time. With her, we have begun to work on digital marketing and strengthened our corporate image thanks to her talent in graphic design, photography and video editing. From the beginning on, she showed us that we could trust her. She had the responsibility of leading the company's marketing campaigns, which has surely helped her to be better in her profession."