Protagonists involved:
NE: Bojan Blažica, Proventus d.o.o., Slovenia and
HE: Antonio Solinas, Abinsula Srl, Italy
Bojan Blažica, Slovenian researcher by profession, has studied electrical engineering and obtained PhD by applying artificial intelligence in the field of human-computer interaction. He had a relatively successful and peaceful research career until a few years ago, when he found out that he is entrepreneur by heart and got an entrepreneurial itch that he needed to scratch. He found out that he is more inclined towards the hands-on entrepreneurial approach to affecting the world, here and now. He always felt the responsibility to create value and never thought about finding a good job for himself, but rather create jobs for others. But he did not know where to start!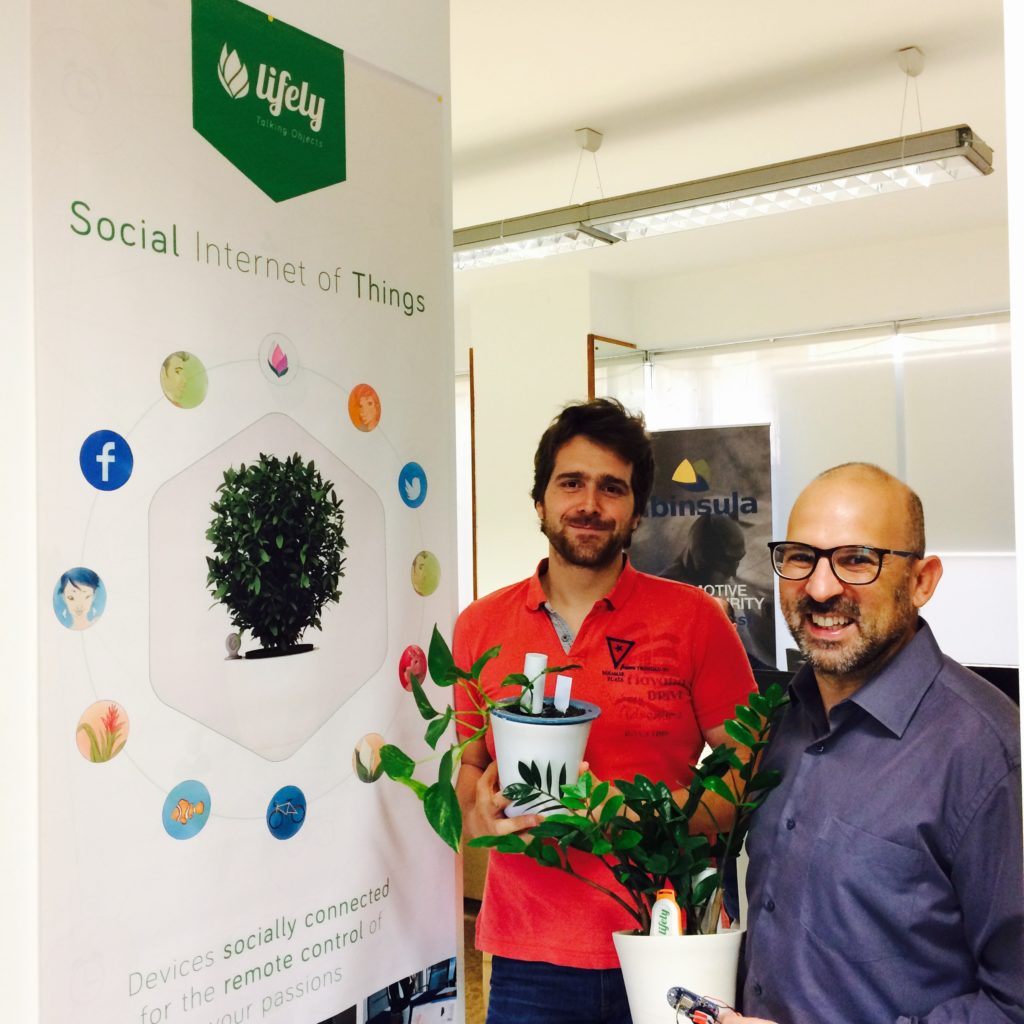 Firstly, he joined a Start-up weekend in Ljubljana, where his digital gardening assistant Tomappo was born. As a researcher he was familiar with research projects and grants, so he started with his team the first version of Tomappo with a grant from the FI-PPP initiative. But he felt a need for more business coaching, so he applied and was accepted to the Techpeaks accelerator in Trento, Italy. This gave him much needed knowledge, but he was still a researcher at that point and needed something to forge him as an entrepreneur. Bojan needed a practical experience in person what it looks like to run a company and get specific entrepreneurial skills needed to run it. Not just any company, but a research-oriented company that is successful on the market and will help him overcome the challenges and barriers he was facing as young entrepreneur.
This is where he was invited by University of Primorska, Slovenian IO, to take the advantage of Erasmus for Young Entrepreneurs program. He had applied as NE and searched for appropriate HE. With the support of Italian IO, ASTER Bologna, he established a relationship proposal with Italian HE, Antonio Solinas, R&D director of Abinsula, one of the most successful Italian start-ups. Antonio and his company Abinsula develops social IoT sensors for monitoring plant conditions (soil moisture, light, temperature), which are a perfect fit for Bojan's gardening assistant Tomappo.
Bojan met Antonio through a joint proposal for an AAL project aimed at bringing the benefits of gardening to the elderly population and to use Tomappo as a tool for including elderly in the digital society. Their proposal was rejected at first, but after improvements that they were able to make together during the EYE exchange, it was accepted and should start in March 2019. One of the goals of Bojan's EYE exchange was to find financing opportunities to integrate Abinsula's sensors with Tomappo. The opportunity seized was the ongoing bilateral technology transfer project Carrots financed by Tetramax. Talking about the impact and achievements these joint research projects are the basis for future commercial collaboration of both companies once the technologies are integrated. Meanwhile, Bojan and Antonio already promote their integrated pilot solution on fairs (e.g. Sinnova, Web Summit) and are starting with pre-sales.
The EYE exchange was the beginning of a fruitful partnership between Bojan and Antonio. They became not only business partners, but much more than that. It was not just about learning how to interpret the role of an executive in a research-oriented company, but also about national culture, music, watching their 2-years aged daughters play together … Being away from home and everyday operations and problems gave Bojan perspective to think and process the ups and downs of entrepreneurial life and having a friend and colleague who understands the bigger picture. Together with the online coaching provided by the OPEN EYE consortium and giving structure to Bojan's personal growth plan, there was plenty of food for thoughts.
As a direct impact and achievement of the EYE exchange, Bojan got a reliable partner in Italy, strengthening his company's position in the foreign market which is most important to him and his team. Furthermore, he secured further financing for his company and extended line of products and services based on Antonio's IoT technology.
Last, but not least, Bojan is sure this collaboration will last and yield benefits in years to come and he plans one day to act as HE in the EYE program in a similar manner to an aspiring young entrepreneur.