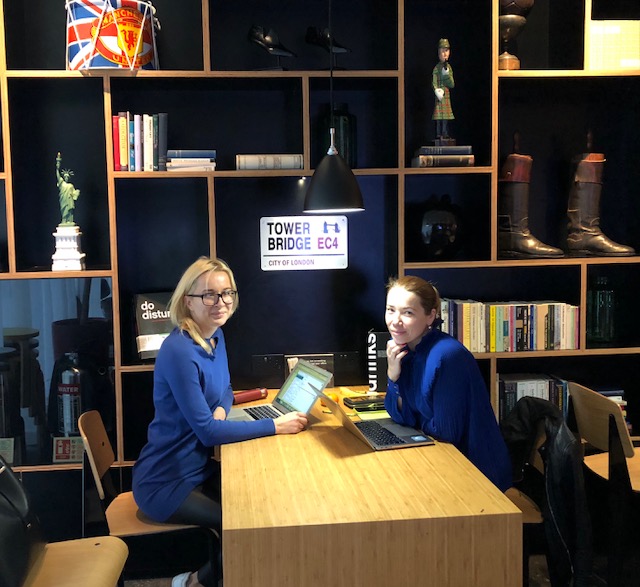 New entrepreneur: Tatjana Baļvas (Latvia)
Sector of activity: public relations, marketing services, media relations


Host entrepreneur: Anna Korjakina (United Kingdom)
Company name: Rutage Magazine at http://www.rutage.com/
Sector of activity: publicity, press, media relations, PR
Duration of exchange: 4,5 months
Tatjana has gained 15 years' experience as event manager, media relations and PR practitioner. So far, she has had a very diverse career path. Tatjana has been news service reporter during 2014 Olympic Winter Games and part of the press center team during the Luge World Cup 2016. Besides, she has experience as an art director and event manager for several popular Latvian restaurants and clubs, as well as PR and marketing manager for international music festival Summertime, that is organized by Latvian opera singer Inese Galante. After gaining such a wide experience and establishing useful business contacts Tatjana decided she is ready to take up even bigger challenge and establish her own PR agency BT Production.
After launching her business, she understood, that it would be great "to get a deep comprehension of how people of her profession run similar business abroad in order to get new ideas for development of her own business." So, she decided to take part in the Erasmus for Young Entrepreneurs program, got in touch and agreed to become a mentee of Anna Korjakina, the founder of lifestyle magazine Rutage. Anna's business was exactly the one to let Tatjana learn how to build and maintain relationships in a fast-moving and diverse environment. It also allowed her to understand which are the most important factors for journalists and media owners, that ensure successful cooperation and long-lasting relationship with PR practitioners.
During the 4 and a half months stay in London Tatjana participated in Anna's daily decision-making process, went on two business trips, visited many big events and exhibitions taking place in London, such as London Fashion Week, World Travel Market and others. During these events Tatjana also participated in workshops and master classes, visited networking events and established useful contacts for possible cooperation in future.
Tatjana admits that this exchange allowed her to see how such business are run abroad and "learned different business and management approaches". She also says that she is very satisfied with her experience.
Tatjana described herself in a following way "I am a very open-minded and active person striving to learn new things, and also very enthusiastic about the things I do. I am ready to invest all my skills and experience while participating with Host entrepreneur's projects, so that both parties gain an added value in the result of this synergy." And this has proven right, since during the program both entrepreneurs developed combined product which both of them can implement not only in their respective markets but also internationally. Together they have developed the service from an idea to a functioning product and already created a database of more than 200 clients to whom they have already started to offer the service. Besides this, Tatjana now successfully implements her newly obtained skills, experience and contacts in growing her business.