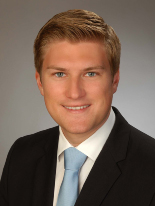 New Entrepreneur (NE)
Name & Surname: Andreas Wilke
Country: Germany
Sector: Consulting services
Name of business: ME.S Management GmbH
website: www.marketexpansion.services




Host Entrepreneur (HE)
Name & Surname: Arnim Wahls
Country: Austria
Sector: IT and recruiting services
Name of business: Firstbird
website: www.firstbird.eu
Introduction of HE's business:
Firstbird offers innovative recruiting solutions to companies worldwide through the power of employee referrals. It is a program that connects talents for companies, through the use of referrals. After setting up an account in just a few minutes, the user can invite employees, alumni, and business partners to be Talent Scouts. The Talent Scouts will share the company's jobs on their social networks, and can refer candidates with personal recommendations. The end result are quality applications and candidates who are personally recommended, and a perfect fit for the client's company.
Introduction of NE's business:
ME.S is a services firm committed to helping international companies to reach new customers for any kind of product in Germany & Greater Europe. Our services can be tailored to support individual steps of the value chain. Furthermore, we advise companies to organize and operate their own individual value chain within and across the European markets and support them with their sales and marketing activities.
Furthermore, whether companies want to incorporate a new business, planning to restructure their existing organization or looking into a possible new acquisition in Germany. We provide innovative solutions to address unique business challenges that support companies across various industries. International clients engage our professional advisory services to successfully manage their complete business lifecycle in Germany.
Andreas, what did you gain through Erasmus for Young Entrepreneurs?
Knowledge:
Due to the Erasmus for Young Entrepreneurs Program I was able to gain valuable insights from my host entrepreneur who was back then two steps ahead from where I started. I was able to increase my knowledge in the fields of efficient work organization and structuring of certain work processes within a start-up company / start-up phase. As an example, the set-up and building of project teams and how those teams work together in the daily operations. But also by the working method of the "Sprints" (from SCRUM programming) impressed me a lot and showed me how to better measure, monitor, structure and organize "To Do's" and work items.
Communication features:
I learned how I could/need to structure my own company in regards of internal (and external) communication and which tools may help us with this. Especially with the help of the new communication tool such as e.g. SLACK (real time messaging and file sharing) or Trello (visual project management- and analyzation tool) which enables project members to work independent of location to work efficient on the same topic, we increased our internal communication and decreased our email traffic. In addition to this, we have implemented a "chat option" to our website which enables clients to send us directly messages if they are on our website and communicate in real time with one of our consultants. This helped us quite a lot for our external client communication.
Also in terms of employee leadership and motivation, I obtained quite a lot of great ideas and impulses how to integrate employees in the company, how to motivate them and how to generate a working environment which enables great things to be done. The three month stay with my HE, helped me to obtain and generate innovative ideas and how to grow my own business. For example, how to encourage employees to explore more efficient approaches to their tasks instead of relying on their standard way of doing things. Motivated them to try new, extraordinary and none-conventional approaches or reward the teams for meeting budgets and time lines.
Cooperations:
During my stay with the HE, I got a better understanding on a foreign market (Austria) which helped me to understand the relevance of this market for own future projects. I got so much support from all directions and people involved of this exchange and was able to meet a lot of new people from Vienna as well. Also, due to Vienna's excellent location for start-ups in Europe, I was also in the position to meet people not only from Austria, but also from around the world and with some, we are even now cooperating in certain projects. E.g. we did a collaboration with an Austrian research company a research for a UK Technology company, who was a client of ours and are currently in negotiations with a sales start up from Vienna (former employee of my HE) to support us with the sales and marketing activities in Austria for one of our existing leads (a German coffee producer).
I learned how I could/need to structure my own company in regard to funding of money and how to grow my own company and what to expect, when talking to VC companies or Business Angles.
Furthermore, I was able to challenge my own sales processes and method while presenting them to the Host Entrepreneur how to establish his business to an new, international market and a potential partner e.g. in Germany.