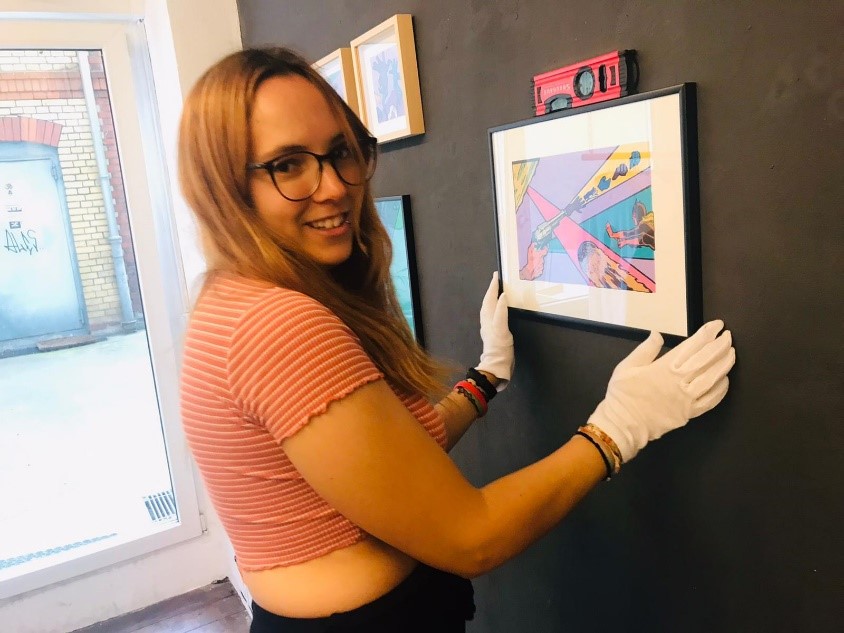 New Entrepreneur (NE):
Name & surname: Ayarit Guanche Castellano
Country: Spain
Age: 27
Sector of activity: cultural consume, gallery, café
What is your (future) business?: It is an art gallery-café, specialized in offering visual artists a space, the capacity of diffusion and the necessary orientation to be able to consolidate through exhibitions, seminars, workshops, conversation cycles with artists, vernissage, projections and concerts, supported by the offer of drinks and thematic snacks that generate a new experience for the public.
Host Entrepreneur (HE):
Name & surname: Jordi Bisquert Mascarell
Country: Germany, Berlin
Sector of activity: Art, Gallery, Shop
Experience in running a business (in years): 4
Name of business/website: Let it Bleed, https://www.letitbleedberlin.com/
What is your business? Let it Bleed's mission is to support local artists. In the shop you'll find an eclectic range of artwork from originals, hand-pulled screenprints, risographs, giclee prints through to postcards and stickers and much more. We also have monthly exhibitions of local artists' work in our gallery space at the back of the shop. We want LIB to be an inspiring place, an uninitimidating environment that gets the creative juices flowing and a space that accurately reflects the alternative scene that is Kreuzberg. 
Duration of exchange: 02/05/2021 – 31/10/2021
Period of exchange: 6 months
How was Ayarit's experience of participating in the EYE programme after the Berlin Corona-lockdown?
Hello, how are you! My name is Ayarit Guanche Castellano, I am 27 years old and I am from the Canary Islands, Tenerife. I have had the great opportunity to participate in the Erasmus programme for Young Entrepreneurs and I encourage other entrepreneurs to do this programme.
My idea came to me a couple of years ago after finishing my degree in Art History at the University of La Laguna. I would like to contribute to the promotion of the cultural sector in Tenerife and my dream is to create an art gallery-café. This multicultural space has the objective of cultural consumption that will give visibility and diffusion to the young artists of the island. To present art through exhibitions, seminars, workshops, cycles of conversations with artists, vernissages, screenings and concerts, all of which will be supported by offering of drinks and snacks that will generate a new experience for the public. It is a long term plan and I don't have all the business experience to undertake it successfully.
Last year, while I was doing my Erasmus +, I heard about the existence of this programme and, as I had already had this business idea in my head for some time, I decided to participate. To do so, I had to make a business plan that was not well defined, but I overcame this by going to some tutorials for young entrepreneurs where they advised me and helped me to finish it. After this, I decided to go back to Berlin, a cosmopolitan city and a place where all the artists meet and, thanks to the recommendation of a friend of mine who lives in Berlin, I got in touch with my HE and there we started to make the rest of the preparations to start this exchange. The EYE programme would help me to work with professionals in the sector who would help me to improve my business idea for my future project, to continue improving my languages, to make contacts with artists in Berlin, to get to know the art market abroad, as well as the management and direction of an art shop and the setting up of exhibitions.
I arrived in Berlin on 2 May and after 5 days of quarantine and an antigen test, I started working at "Let it Bleed". From the first day, my HE made me feel comfortable and part of the team. Every day I got to know the partners (artists) of the shop better and better, which led me to be invited to the wedding of one of them and to feel part of this artist family. I started to work in customer service, I got to know the works of each artist, as well as their names, the operation, maintenance and management of the shop. After that, I started with the administrative side of things (keeping track of the merchandise sold, the monthly statement accounts of the artists' earnings, etc.), as well as social media marketing (Facebook and Instagram). After a month and a half, the restrictions, imposed by the German government, decreased and we were able to start with the exhibitions, helping to set up the exhibitions, preparing the walls, the drinks and writing the promotional texts on social media. Finally, I started a personal project, without realising it, drawing on three post-it notes and sticking them on the wall next to the desk in the shop. Over time, more artists joined me in making these small post-it notes, as well as the collective of artists, ending this project in a possible exhibition.
In addition to the experience I gained, my HE gave me a series of guidelines to improve my business plan. He helped me to find a better structure for my initial idea and explained financial planning strategies. I have to thank my HE for opening the doors of Berlin for me, introducing me to many artists, getting to know the city from a different perspective, growing professionally and personally, etc.
In conclusion, I am very happy and grateful for the experience. This exchange has made a great contribution to my future as an entrepreneur. I will return to Tenerife with great enthusiasm to put into practice what I have learned. Moreover, there is a high possibility that my host and I will be able to collaborate in the future and, of course, we will keep in touch.
Jordi Bisquert Mascarell (HE): "I am an artist living in Berlin since 2005 and together with five other artists I run a gallery and art shop in the Kreuzberg district called "LET IT BLEED". Since May 2021 I have been Ayarit's host, which has been a great experience for me, and I have learned a lot together with her and this programme. First, I want to say that Ayarit with her open and jovial character became part of this family of artists from the first week. Regarding the work as NE, the evolution has been surprising: in six months I have been able to see how an insecure person due to her inexperience has managed to take control of the tasks assigned to her, taking on a large part of the organisational work and acting as a cohesive link in the collective. This experience has been very positive and recommendable for me. I would like to repeat the experience as Host as soon as possible, as I consider that it has been an invaluable help for the collective and, at the same time, a mutual learning experience. Finally, it would be great if Ayarit could stay with us for as long as possible."