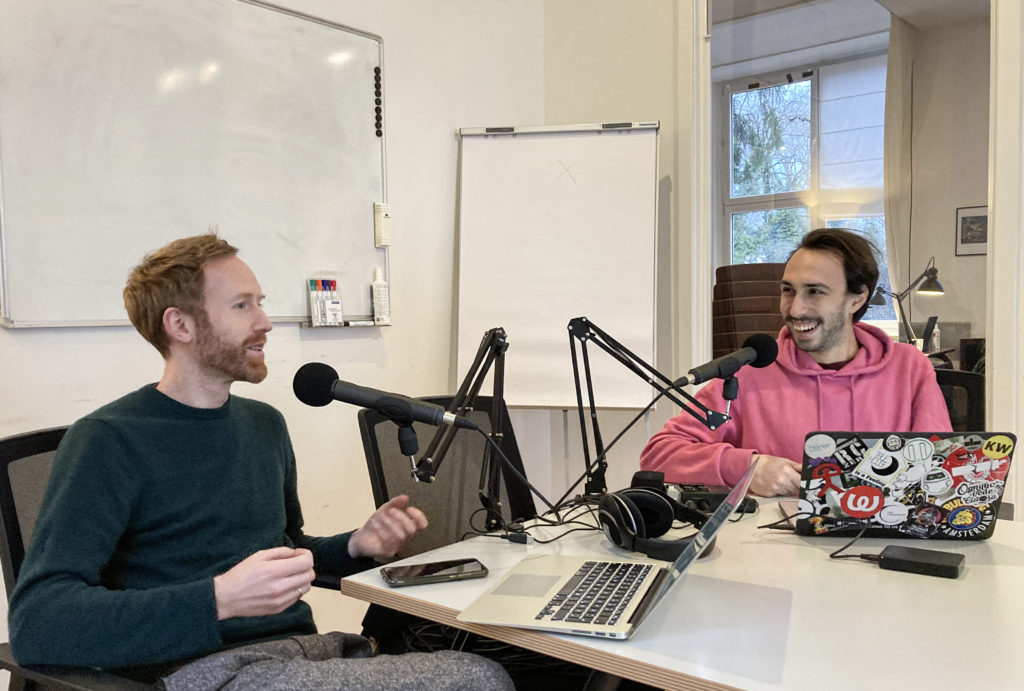 New Entrepreneur (NE)
Name & surname: Giovanni De Feo
Country: Italy
Age: 25 years
Sector of activity: Entertainment
Did you already start your business? Yes.
Name of business/website: TO BE / https://www.facebook.com/Tobedizioni
What is your future business? My intention is to create a record label that deals not only with music but also with audiovisual art and performance.
Host Entrepreneur (HE)
Name & surname: John Neilan
Country: Germany
Sector of activity: Coworking, Sustainability, Social Entrepreneurship
Experience in running a business: 3 years
Name of business/website: tuesday coworking – MoreThanADesk GmbH / www.tuesdaycoworking.com
What is your business? tuesday coworking is a coworking space in Berlin, which focuses on sustainability and social entrepreneurship.
Period of exchange: 31/08/2020 – 12/12/2020
Duration of exchange: 3,5 months
Which new marketing and advertising strategies did John and his coworking company develop thanks to his collaboration with digital communications specialist Giovanni?
John Neilan is the founder of "tuesday coworking", a successful coworking space in Berlin. He chose to participate in the Erasmus for Young Entrepreneurs programme because he was looking for a collaboration with a young entrepreneur from whom he could both learn from and strategise with in regard to the future direction of his company. He was especially interested in acquiring new input and experience in Social Media and graphics that could help his company become more interactive and relevant, with a clean and stylish company image.
For 3.5 months, John collaborated with new entrepreneur Giovanni De Feo, an Italian specialist in digital communication, who would like to start his own business in the entertainment industry.
While one of the business collaboration's goals was to collaborate in the area of graphic design, the entrepreneurs decided to change the focus of their relationship during Giovanni's stay in Germany. They decided that Giovanni's time and skillsets could be put to even better use with regards to new media formats such as TikTok, Spotify and Instagram. Giovanni's main activities during the business collaboration, therefore, included creating graphics and videos for his host company's online advertising, ranging from the setup of a TikTok channel to the analysis and strategy creation of their online media publications.
Moreover, the highlight of the collaboration was the creation of a bi-monthly radio podcast called "Radio Tuesday", which truly intertwined Giovanni's and John's businesses as well as their clients. John and Giovanni intend to stay in contact even after their participation in the Erasmus programme has ended, in order to continue to record radio podcasts together. However, this is not the only positive impact that the collaboration has had on the two entrepreneurs' businesses.
On the one hand, Giovanni, as a young entrepreneur, was able to expand his network and to create a business for himself, learning all the necessary steps to set up as a legal entity in Europe. Thanks to his constant exchange with John and his clients, he also learned how to better approach and communicate with customers.
On the other hand, John and his company "tuesday coworking" has been able to develop new projects (like the podcast and the Spotify channel) and to expand into new areas (TikTok) thanks to Giovanni's input, which noticeably widened the range of the company's marketing and advertising options. The addition and maintenance of the new formats, including constant stories and social media posts, has kept the coworking space on the minds of their customers and has given their channels their own distinct style and colour palette. Giovanni's impact can be most clearly seen in the effect that his insights and experience have had on the number of followers @tuesdaycoworking.berlin, which has grown by an amazing 22% during the time of the collaboration.
Concluding Remarks
Giovanni De Feo (NE): "An educational and exciting experience. Being able to work closely with a successful entrepreneur open to experimentation and new ideas contributed to my technical and life training. I learned to relate to different types of professionals in different sectors and this has facilitated my ability to propose myself and know how to turn to the right people for my business. Fantastic experience, recommended for those like me who are about to launch a new business in the era of absolute multimedia."
John Neilan (HE): "An interesting experience with a very motivated and high-energy NE who brought new ideas and concepts to our coworking space which ultimately have contributed to an overall improvement to what the business produces and provides its customers. We hope the relationship also provided the NE with new impulses from which he could learn. An overall positive experience."