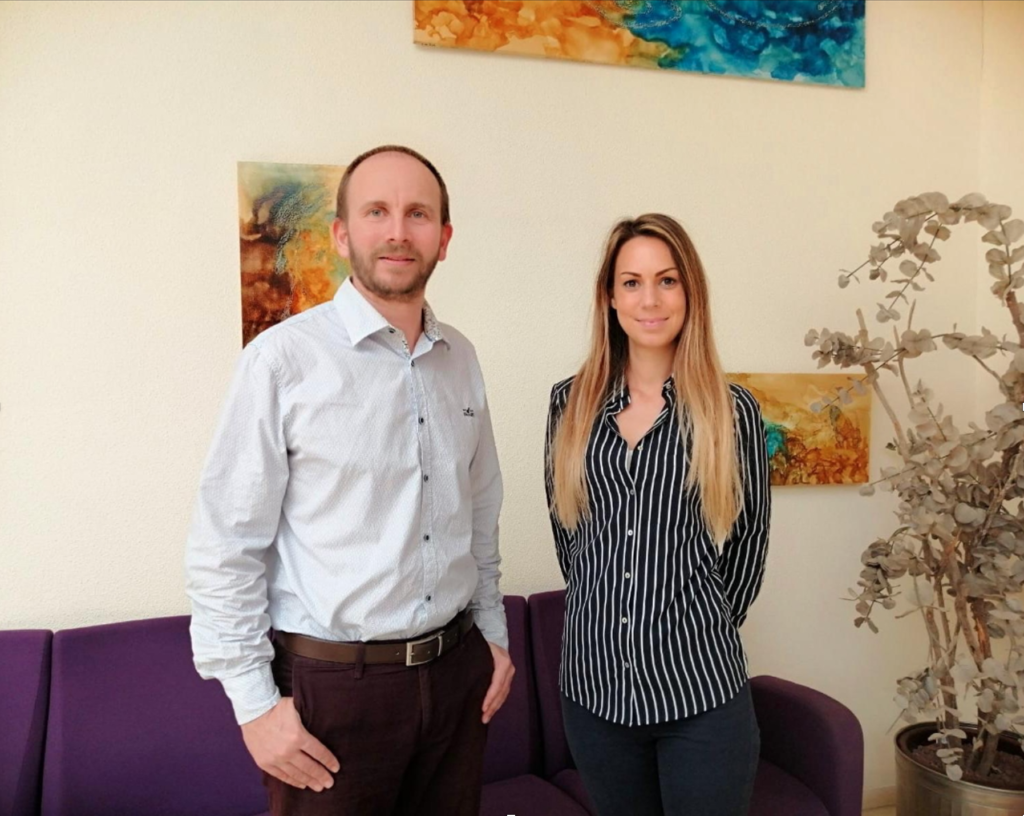 New Entrepreneur (NE)
Name & surname: Dóra Balogh
Country: Hungary
Age: 27
Sector of activity: Advertising & Marketing
Have you already started your business? No.
Name of business/website: Dorita Florita Online Marketing / https://doritaflorita.com
What is your future business? The mission of Dorita Florita Online Marketing Consultant Agency to provide comprehensive marketing consultation and creation of advertising campaigns for small-medium sized enterprises, like restaurants and start-ups focusing on their social media sites. It is our long-term goal to become the preferred advertising agency for the bigger local coworking spaces and having clients at international scale.
Host Entrepreneur (HE)
Name & surname: Alfonso Rodriguez-Lecuona
Country: Spain
Sector of activity: IT
Experience in running a business (in years): 9
Name of business/website: Bakata Solutions / http://www.bakata.es
What is your business? BAKATA SOLUTIONS provides a broad range of IT services to companies. Our main focused of the business are cutting-edge web and cloud applications, apps development and IT consultancy services. We also provide multi-platform integration, ERP, CRM, web development, web design, SEO, SEM and analytics services to our customers.
Period of exchange: 10/02/2020 – 19/03/2020, 01/07/2020 – 28/08/2020, 14/09/2020 – 27/11/2020
Duration of exchange: 6 months
How was Alfonso able to improve his company's marketing strategy thanks to the contributions of new entrepreneur Dóra?
Alfonso Rodriguez-Lecuona's company BAKATA provides a broad range of IT services to companies. He was seeking a business collaboration with a young entrepreneur who could support the main online marketing processes for the different clients of Bakata and who could help improve the presence of Bakata Solution SL on different websites and social media platforms as well.
Dóra Balogh is a young entrepreneur from Hungary who is an expert in advertising and marketing. The young entrepreneur's aim is to establish a Social Media Agency in the future. She looked for a host company in which she could learn those digital tools and services, which are required for running her online business. She contacted the Tenerife based company, Bakata Solutions SL which was providing a broad range of IT services to different B2B clients.
The two entrepreneurs collaborated for a total of 6 months through the Erasmus for Young Entrepreneurs programme.
During the exchange, Dóra supported Alfonso's business with content marketing, SEO report, a marketing strategy and social media management – all under the supervision of the team. Apart from that, she was taught by Alfonso how to do back-end and front-end website management Odoo and WP. After being an advanced user in different tools and systems, Dóra worked on Alfonso´s business online appearance, brand awareness and marketing strategy. Sometimes, she was further asked to look into new tools, check different indicators in general and look for coworking offices and collaborative environments in the Canaries. Alfonso took advantage of the NE`s investigation and knows now more about the strengths and weaknesses of each tool and system. The provided list of coworking offices in the Canaries is valuable information to the HE in case of expanding his business. During the exchange, Dóra extended her knowledge and improved her organisation skills, so she could establish a website for her future online firm with a corporate identity manual. Besides this, she made some corrections to her Sales Strategy calculation in order to achieve the key business objectives. Even though the COVID-19 pandemic caused difficulties in their lives, both the NE and HE decided to continue the program.
Thanks to the business collaboration, Dóra therefore got familiar with web and cloud-based tools or applications multiplatform integrations, ERP, CRM, web development, web design, SEO, SEM and analytics, which are essential for establishing and running an online business. She took advantage of learning and practicing new tools and established her own website and corporate identity manual. Thanks to the brainstorming with her HE, it became clear that the price estimation (services prices, cost of sales) in the Sales Strategy of Dorita Florita was too low compared to the reality. Therefore, Dóra corrected her calculation, which was an important step in order to reach break-even by the 1. year, and gain the number of contracts later on. Thanks to the collaboration, she also improved her problem-solving, decision-making, multitasking and time management skills. Now she has the ability to work in a busy international environment and manage an online firm on a day-to-day basis.
On the other hand, thanks to Dóra's previous experience she could create a Marketing Strategy for Alfonso's business. Besides this, she provided information relating to new digital tools, indicators, and coworking offices in Gran Canaria. As a result of the investigations, Alfonso experienced a better online appearance and brand awareness of his business because of the useful information and the Marketing Strategy. Alfonso's business further benefits from Dóra's investigation of coworking offices in Gran Canaria since Alfonso is planning to extend its business towards the other Canary Islands. Throughout the business collaboration, Dóra also created several reports, analyses, articles, blog posts and website content for different clients of Bakata Solutions S.L. and was involved in social media management and sales projects. Both entrepreneurs, therefore, benefitted greatly from this business collaboration.