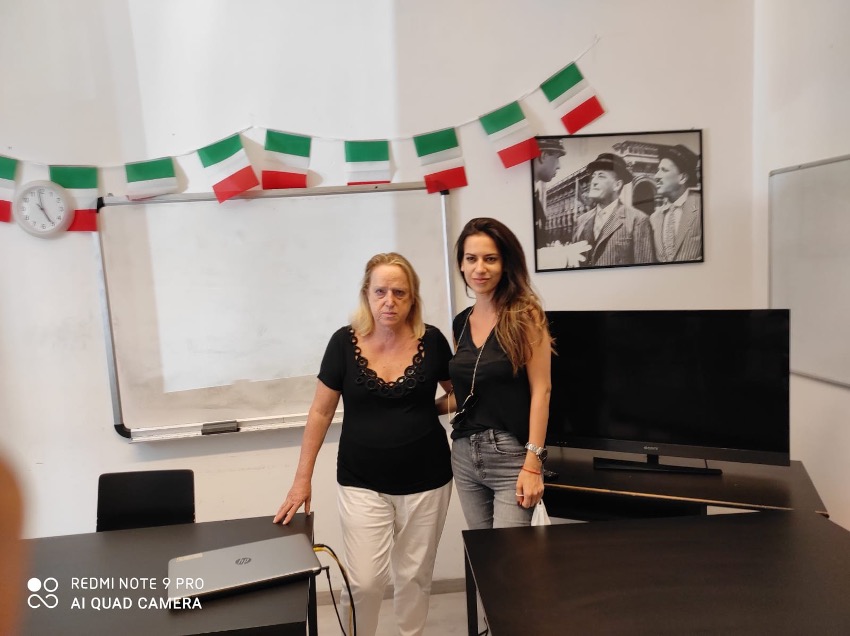 New Entrepreneur (NE)
Name & surname: Vanja Mladenovic
Country: Serbia
Age: 33
Sector of activity: Fashion
Have you already started your business? No.
Name of business: Vshhh Lab
What is your future business? It will be a niche and different concept in women's lingerie and bodywear that combines true craftsmanship with designs, flirting with subjects of seduction and sensuality.
Host Entrepreneur (HE)
Name & surname: Pina Foti
Country: Italy
Sector of activity: Education
Experience in running a business (in years): 34
Name of business/website: Accademia Studio Italia / www.accademiastudioitalia.com
What is your business? The Italian Language School Accademia Studioitalia, based in Rome, has been teaching Italian to foreign learners since 1985. On top of that, the school is also one of the most recognized training centres for Italian teachers, offering high-quality training programs and specialised courses.
Period of exchange: 12/06/2020 – 12/01/2021
Duration of exchange: 6 months
How did Pina Foti conquer new markets during a global pandemic?
Vanja is a young woman who, after many attempts to find a suitable job after graduating from university, decides to take matters into her own hands, enter the world of entrepreneurship and do what she has always wanted – fashion. Not knowing how to gain the appropriate knowledge and experience in the field she wants to pursue, she finds out about the Erasmus for Young Entrepreneurs Programme.
On the other hand, Ms. Pina is an entrepreneur who founded and runs a school of foreign languages with many years of experience. The school is recognized by Italian universities and has been awarded many times throughout Europe.
There were not many points of contact as it seems in the beginning but little by little, the two entrepreneurs found out that they had much in common and realized that the exchange would bring mutual benefits.
The process of gathering knowledge and skills took place in two directions: Ms. Foti selflessly shared her knowledge, skills, methods and explained the processes that were applied on a daily basis. Through learning by doing, Vanja acquired further knowledge. By working in the language school, she gained appropriate experience, and at the same time gradually applied it by developing her own business plan.
During the relationship, Vanja was taught about market research in order to create a network of suppliers and to build a path to customers. This also helped Ms. Foti to explore other markets for her school, find new clients, and enrich her database of contacts. Through further engaging in the daily maintenance of social networks, Vanja created interesting content and attracted new followers to Ms. Foti's business online presence. She also created a website in Serbian through the application of SEO and KW. Through the organization of employees and students, Vanja gained customer service experience and helped create a positive atmosphere in the school. Last but not least, Vanja got acquainted with new sales strategies and financial reporting.
Due to the current global pandemic, the two entrepreneurs faced a few challenges during their business collaboration. Due to the health situation, the language classes were shifted online, fewer students than usual attended them and the overall workload for the business staff was reduced. All of this has resulted in increased costs and a large drop in revenue. Therefore, part of the plans could not be realized despite all the efforts made by both sides. Still, it brought new experiences and lessons they hadn't even hoped for. The lessons and skills learned during this period from reorganizing work to finding ways not to lay off workers were invaluable. All in all, the obtained results of the exchange were in many ways useful for both parties.
Thanks to the business collaboration with Vanja, Ms. Foti has entered new markets with her school in Europe, and new partnerships and profits are expected in the upcoming months. The number of students has increased significantly as a result of the application of different marketing strategies and sales. Extraordinary circumstances have further taught them active mutual engagement in decision-making, management and cost control.
Vanja, as a young entrepreneur, has gathered a lot of knowledge and experience in various fields throughout the exchange, both personally and professionally. From lessons on how to keep a company stable and solvent in different circumstances, defining your brand, targeting and communicating with stakeholders, accessing new markets and expanding existing contacts, applying different marketing and sales strategies, to positioning a business in the global market.
Concluding Remarks
Vanja Mladenovic (NE): "This is a great program, which I feel sorry I didn't find out earlier. The international environment, the people I met, the places I visited, Ms. Foti and the experience of working with her and her team brought me both personal growth and business experience and perfect preparation to enter entrepreneurship."
Pina Foti (HE): "The great experience with Erasmus programs continues. Vanja is another example of a great young entrepreneur and new hope in the global market, who has brought a cheerful spirit and wonderful ideas to our business, and with whose cooperation we have made many important business decisions, from which great benefits are expected in the future."