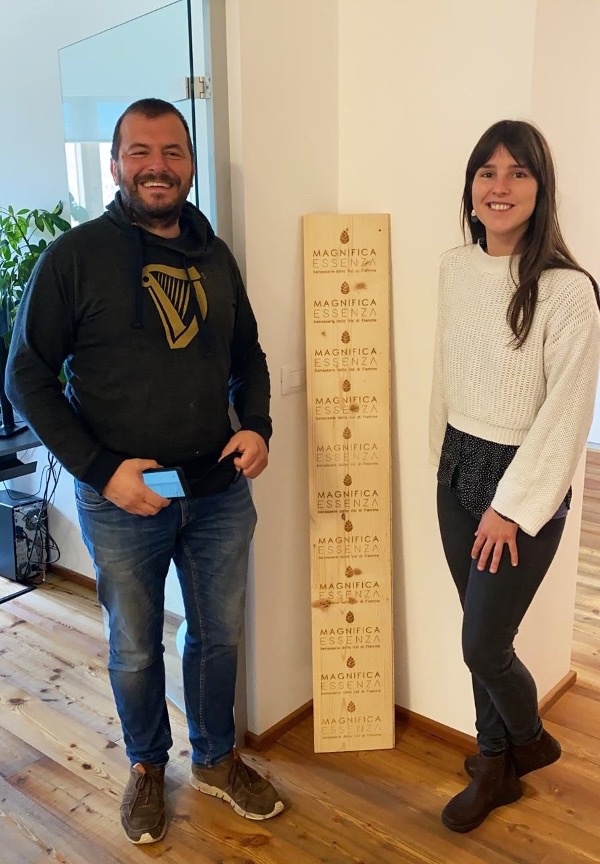 New Entrepreneur (NE)
Name & surname: Iris Mota
Country: Portugal
Age: 26 years
Sector of activity: Natural Plant Products and Essential Oils
Have you already started your business? No.
Host Entrepreneur (HE)
Name & surname: Roberto Dallabona
Country: Italy
Sector of activity: Renewable energy; Plant Natural Products
Name of business/website: Magnifica Essenza / www.magnificaessenza.it
Period of exchange: 13/07/2020 – 13/12/2020
Duration of exchange: 5 months
A Portuguese in the middle of the aromas of the Dolomites. How did it all happen?
Iris Mota is a portuguese biologist with a master's in pharmacy of natural products. In 2013, she created, while studying biology, a very small project in collaboration with department of Plant biology of the Faculty of Sciences of Lisbon University and with the university permaculture garden (HortaFCUL) which allowed her to start extracting and analyzing the essential oils from the aromatic plants of the garden and examining how to improve the (very small) chain of production and develop some final products. She also decided to learn more about plant cultivation technics and taxonomy in the university's Botanic Garden of Ljubljana (Slovenia) for 6 months. When she returned to Portugal, while doing her master's degree, she also did a study related to ethnobotany, of the uses, knowledge, and conservation of medicinal and aromatic plants. Then, after receiving her master's degree and after working for one year in the Castilla y Leon seedbank in Spain, she found this fantastic possibility to go for an international exchange for young entrepreneurs. She decided it was the opportunity she was looking for to finally test her skills and ideas in a real context of a company, to complement them with experience, and to learn by doing.
When she began searching for a company through the EYE program, she found Magnifica Essenza from Italy. It was really surprising for her because when she saw their description, she really felt a synchronicity of ideas and principles. She chose a company that dealt with high-quality essential oils complemented with a short traceable chain of production supported by a network of local farmers. Her host Roberto Dallabona and a partner, Marco Valussi, really helped her to grow professionally as they are very focused on 'competence intensive' way of work and laid the foundations for Iris to be able to build a distillery unit in Portugal. She is very happy about her choice; she found the program to be very enriching in multiple levels and she is grateful to her Host and to the company's whole team, which welcomed her in all its activities.
Iris was supposed to go to Italy in March 2020 when the coronavirus pandemic hit. So, she had to wait to see if the situation improved. It was difficult these months of uneasiness and thinking that possibly she could not do this program. Fortunately, the EYE program's team has always been available to deal with this extreme situation.
Finally, in the middle of July 2020, she went to work and learn with Magnifica Essenza, in the region of Trentino, in the town of Cavalese, in the Magnifica Communità di Fiemme. When she arrived, she got to know that Magnifica Essenza was even more magnifica than what she thought! Besides the short chain of production, the farmers network, and the high standards of quality, Magnifica Essenza also had the principles of circular economy, using the vapor waste from another company, Bioenergia, for the distillation of essential oils. Hence, the company also collaborates with associations dedicated to social inclusion which was very pleasant for her to know.
The activities that Iris carried out with Roberto ranged from participating in company open days to visiting the aromatic plant fields, getting to know the farmers, participating in all the production processes, dealing with retailers and making product proposals, to labelling and preparing documents to export essential oils. Besides this, she also had the opportunity to exchange her culture with the team of both companies through dinners, visits, and other activities that the companies welcomed her to.
All the activities had an exchange component which helped Iris and Roberto to share points of view and experiences. She could learn the subtle differences between her approach and Roberto's and understand the complexity of several business processes. The formal and informal exchanges of ideas about the company and products were regular which helped her to have a close view of how the company works to contribute to a sustainable business.
The EYE program was not only useful for Iris to improve her knowledge about key processes of a company in this particular industry, but also as an opportunity to put her ideas to test. During this period, she was able to be involved in a company that actively engages with the community, and recognizes the importance of circular economy, social and environmental sustainability, and teamwork. It was certainly a short experience with a great impact, which allowed her to eventually partner with this company for future projects and to gain confidence in her own ventures.
I would like to thank the whole team for all their support: Roberto Dallabona, Anastasia, Marco Valussi, Marco da Col, Nadia, Federica, Andrea, Maximo, Angelo, Roberto Balbo, Alex, Luca, Mario, Angela e Irene.
Concluding Remarks
Iris Mota (NE): "Waking up every day to work and learn about something that I'm really passionate about was very meaningful to me. I was very lucky to work with this company, with a team that welcomed me in all its activities. Roberto has been very important in this journey, due to all his support. A truly enriching experience professionally and personally."
Roberto Dallabona (HE): "Our passion is to extract the best essence from each plant, with Iris it went the same way, she gave us her best part."