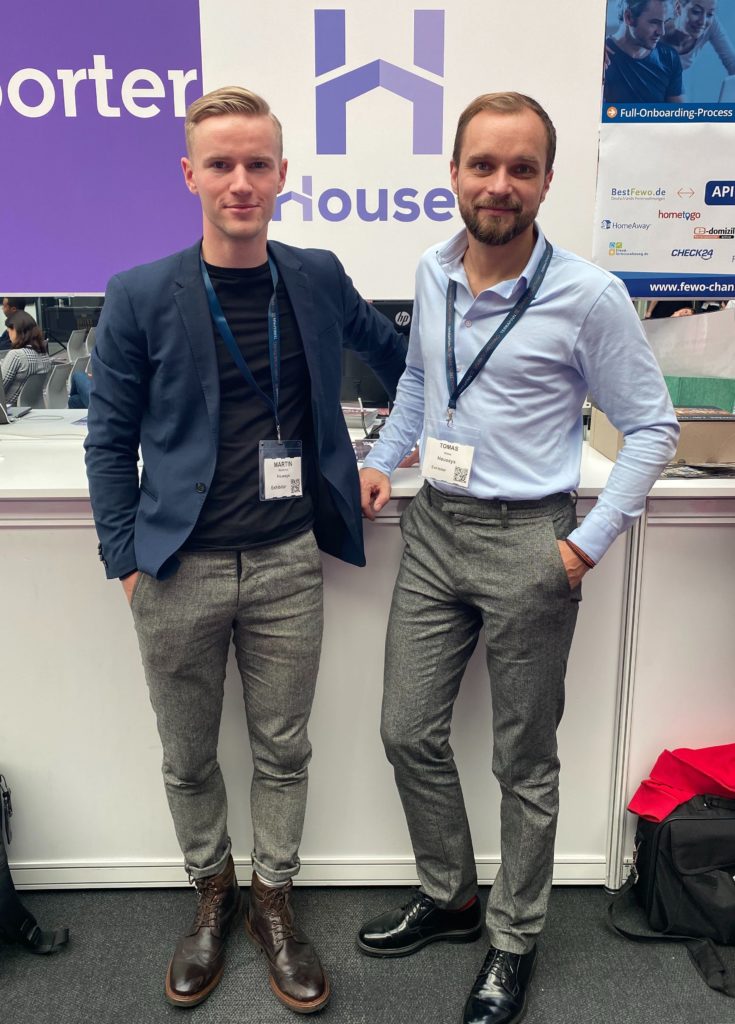 New entrepreneur
Name & surname: Martins Mackevics
Country: Latvia
Age: 25
Sector of activity: Short-term rental
Host entrepreneur
Name & surname: Tomas Grias
Country: Lithuania
Company name: Houseys
Sector of activity: Short-term rental
Period of the relationship: 01/10/2019 – 24/01/2020
Duration of the relationship: 4 months
How did New Entrepreneur Martins Mackevics gain hands-on knowledge and experience in the rental management field?
New entrepreneur Martins Mackevics decided to participate in the program as he was considering starting his own business in the short-term rental management field but felt that he was lacking deeper knowledge and experience in the industry. Therefore, Martins connected with his mentor Tomas, who started his short-term rental company Houseys almost two years ago, with previous experience in the real estate field.
Martins managed to jump into the business quickly and helped his mentor from day one. He had two main responsibilities during his time with Houseys. Martins spent a large share of the time dealing with customer service requests and communication, which enabled him to better understand what the most common issues with clients are and how these problems can be solved and limited. Moreover, he was put in charge of introducing and launching two online tools that helped to further increase the efficiency and user-friendliness of the services Houseys offer. Both tools are now running and have been a great improvement to the operations.
Furthermore, Martins had the opportunity to be a part of Houseys in conferences related to the short-term rental/real estate field, which was a great opportunity for him to grow his professional network and to gain further industry knowledge.
Martins believes that the program definitely made him more confident in that he has chosen the right path for his future business, and, also, that it has saved him months of work that he would have spent by understanding the market on his own.
One of Tomas' main take-aways from the program is that, for a company it is much better to collaborate with a person that is very passionate about the business and industry but has yet a lot to learn, as opposed to somebody who might already have years of experience, but perhaps has not the most positive mindset. People can learn and acquire skills relatively quickly, but it's really difficult to change someone's mindset.
Many of Martins' ideas have already been implemented in the Tomas's business and will continue to be implemented in the future. It ranged from small things like researching what helps to increase the ranking of property listings on online booking platforms, such as, Airbnb, to carrying out the whole process of partnering with another company and introducing a new tool for improved customer satisfaction and decreased customer service requests.
The exchange has and will continue to benefit both parties in multiple ways, from which the most important is the established partnership that they both will continue to grow. Martins will continue to work in Latvia under the Houseys brand, giving Martins more recognition and credibility, whilst providing extra financial incentives and growth opportunities to Houseys.
Concluding Remarks
Martins Mackevics (NE): "If you have an opportunity to join the EYE program, I would highly recommend going for it. It's a great way of getting out of your comfort zone while working in a new country and new environment. However, take your time to find a HE that's right for you as it's the most important relationship you'll build during the program. You also need to be deeply passionate about the field where the company operates, in order to get the most out of the experience."
Tomas Grias (HE): "For our company it was a wonderful addition to have Martins help us for almost 4 months. To other host entrepreneurs who are wondering whether to take part in the program, I cannot recommend it enough. My main suggestion for HE's is to get to know your NE as much as you can before the program begins, even if it's just through video calls. It's also crucial to ask him/her what parts of the business he/she would really want to understand better and work on and be as flexible as possible when it comes to that."