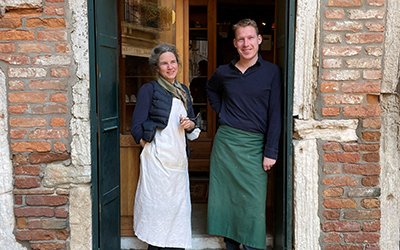 New Entrepreneur (NE):
Name & surname: Markus Kraxner
Country: Austria
Age: 30
Sector of activity: Shoemaking
Did you already start your business? No
What is your future business? Running an own workshop for handmade shoes
Host Entrepreneur (HE):
Name & surname: Gabriele Gmeiner
Country: Italy
Sector of activity: Shoemaking
Experience in running a business (in years): 20
Name of business/website: shoes made to measure (gabrielegmeiner.com)
What is your business? Shoes made to measure
Period of exchange: 03/01/2022 – 27/06/2022
Duration of exchange: 6 months
What were the main benefits of participating in the Erasmus for Young Entrepreneurs program for Markus Kraxner?
I am Markus, a shoemaker from Austria and my goal is to learn skills and gain knowledge from other shoemakers to start my own business.
During a trip to Venice last year, curiosity and interest in my profession led me to Gabriele Gmeiner's workshops.
Gabriele Gmeiner, who is a shoemaker famous for her craftsmanship, told me about the Erasmus for young Entrepreneurs programm and the possibility of an exchange.
Gabriele Gmeiner offers made-to-measure shoes exclusively for men and women. Gabriele Gmeiner has been working in Venice since 2003 in her workshop at Campiello del Sol. She produces made-to-measure shoes of the finest quality. Gabriele already participated in the program as a host entrepreneur and likes sharing her experience with someone else. She studied in London at Cordwainers College specializing in the traditional shoe craft and in Paris at the Centre Formation Technologique Grégoire for saddlery. Her working experiences have taken her all over Europe.
Of course I was excited by the thought of working with a shoemaker like Gabriele Gmeiner and living in the city of Venice. So I decided to take the opportunity and started a six-month exchange in Venice.
For the time in Venice, I planned to take as much as possible of Gabriele's craft and knowledge as well as her entrepreneurial know-how with me. Through the close cooperation and being abroad, I not only improved my skills, but also got a lot of new ideas. Life in a foreign environment and the intense preoccupation with myself and the future of an own business gave me lots of new inspiration and creativity.
I think the Erasmus for young Entrepreneurs programme is perfect to achieve that, because it fits exactly with the personal and professional stage of development. It gives you the time and the opportunity to develop in a way that would certainly not be possible in the usual everyday life and environment.
Besides the everyday collaboration with Gabriele Gmeiner, there were two projects during the exchange that were very special.
One was to participate in Homo Faber, an international craft exhibition in Venice. As part of this exhibition, the doors of the workshop were opened to interested visitors over a period of three weeks. During this time, I was able to bring the craft closer to many people and convey my passion for the profession. In addition, I was able to meet many people during this time and had many interesting and inspiring conversations.
The second project that was important to me was the independent production of a complete made-to-measure shoe. Gabriele gave me the chance to do every part of the production process myself and constantly supported me with her knowledge and experience. This has helped me to gain experience in areas of shoemaking in which I had no previous experience and to fill gaps in my knowledge.
Professionally, the exchange was a complete success thanks to Gabriele's help and willingness to pass on her knowledge.
Besides the work, it is also the experience of living abroad that contributes to the development and will remain unforgotten. I have met new friends, formed views and perspectives on life that I would not want to miss in the future and that have enriched my life and future work.
In summary, I return home with a wealth of personal and professional experiences and can't wait to integrate them into my life and professional activities.
Concluding Remarks
Markus Kraxner: "I am grateful to have had the opportunity to have this experience. I can recommend it to every young entrepreneur. It will definitely enrich your life and work."
Gabriele Gmeiner: "Every person participating actively in the daily workshop life brings in special abilities and ideas. Me as a host, I am always open to these new influences which enrich my entrepreneurship."