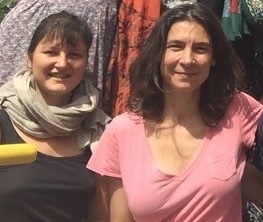 New Entrepreneur (NE):
Name & surname: Anna Lena Hahn
Country: France
Age: 28
Sector of activity: Organic/Bio/Eco poducts and services
Did you already start your business? Yes
Name of business/website: Lierlou and the Village // www.lierlouandthevillage.org
Host Entrepreneur (HE):
Name & surname: María Llanos del Corral
Country: Spain
Sector of activity: Organic/Bio/Eco poducts and services
Experience in running a business (in years): 3
Name of business/website: La Bolina// www.labolina.org
Details of the exchange
Period of Exchange: 18/01/2021 – 09/07/2021
Duration of exchange: 6 months
In what ways did Anna Lena contribute to María's project, while also learning a lot herself?
Anna Lena is a young entrepreneur from France who recently launched her own land-based project called Lierlou and the Village. Within this project she is running wild plant harvesting and cooking workshops in order to teach about a more ecological and attuned life for people. Anna Lena wanted to foster new relationships in her area of activity in Europe, see her business idea from another perspective and learn how to lead and stir a business working with local people and agriculture. For these reasons she chose the HE, María Llanos, who runs a dynamic rural development initiative in Granada (Spain).  Together they have carried out a successful business relationship through which the HE has expanded her product portfolio and Anna Lena has learned new marketing skills and created new business ties.
Anna Lena has supported and collaborated in a wide range of activities developed by our organization. She has, in fact, come up with ideas and activities that we have taken on board gladly. The activities had been related to:
1. Education and awareness raising. The training and events carried out have aimed to create awareness around the importance of agroecological production, agroforestry and wild plants. Anna Lena has been a key promoter for the last two themes in our project. She has run a series of workshops and has been particularly skilful working with locals and migrants.
2. Land base. Anna Lena has worked on the land and participated in the different cycles and activities in it, including harvest and preparing the produce for the veg boxes. She has also visited other producers' land and participated in meetings to better understand the local networks we are developing. She has implemented agroforestry in our land and created the systems for us to carry on with the improvements. Also we have planted edible flowers, something we have boosted with Anna Lena´s collaboration.
3. Commercialization. Anna Lena has taken part in all the stages of Commercialization, from the harvest in the land to the preparation of boxes and fresh and dry produce delivery. María Llanos, from la Bolina, has introduced Anna Lena within the local network of producers and consumers, giving her the possibility of strengthening her business contacts network in another country. María has also provided Anna Lena with new practical and social skills when it comes to business promotion and by involving and guiding her in the production chain.
The achievements of the partnership and of NE's participation are important and valued by the HE personally and the whole team.
1. Education and awareness raising. Anna Lena had facilitated training with diverse groups of people, including migrants and refugees. She believes she has learned the skills to work with such diverse groups, how to be understood, how to make people comfortable and trust in the learning space, and how to manage different languages. The participants on the other hand had benefited from the wide and profound knowledge and enthusiasm that Anna Lena shows for the topics she is passionate about. She has learned a lot and helped La Bolina's team learn about wild plants around and agroforestry.
2. Land base. Anna Lena has created an agroforestry system in the land which has added diversity and resilience to the space. The systems put in place had increased the teams knowledge. Anna Lena has learned the cycles, crops, and agroecological and permaculture management of the land as well as land planification amongst producers, a process that entails both facilitation skills and land knowledge. Anna Lena has also fit very well with the diverse team of La Bolina. Appreciating, dealing with and learning from the diversity in the team is one of HE's main goals of her project, to learn from the experience of being with others as a way to cultivate empathy, solidarity, equality and justice as personal and societal principals.
3. Commercialization. Anna Lena has learned La Bolina´s systems, she has had access and was able to manage the preparation, presentation aspects of the boxes as well as the importance of personal communication with customers, and fundamentally the back stage of systems that make it all possible. She has contributed ideas for produce and presentation.
Anna Lena Hahn (NE): "Working together with Maria opened my eyes to how a social enterprise that builds community can look like. The exchange and the mentoring broadened not only my skills but also my imagination and created a relevant network of new partners and collaborators."
María Llanos del Corral (HE): "Anna Lena has supported the increase of produce that we offer in the veg box. Her knowledge of agroforestry, wild plants and flowers has expanded our sense of possibility and the team feels trained and experienced enough to take care and harvest the flowers and plants that now we are serving in the vegan box."