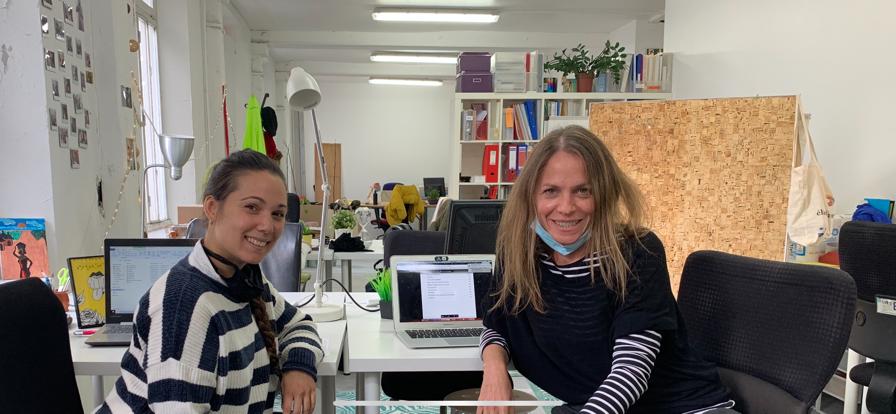 New Entrepreneur (NE)
Name & surname: Elena Pérez Vasco
Country: Spain
Age: 28
Sector of activity: Music, theater, cultural and entertainment services
Have you already started your business? No
What is your future business? I would like to create a theater school where I can promote physical theater and workshops on different techniques.
Host Entrepreneur (HE)
Name & surname: Cecile Stola
Sector of activity: Education and training services
Country: France
Experience in running a business: 8 Years
Name of business/website: Elan Interculturel / www.elaninterculturel.com
What is your business? Elan intercultural is an intercultural organization, working towards a fair and integrated society where people of different faiths, beliefs and cultures have positive and meaningful relations.
Period of exchange: 4 months
Duration of exchange: 15.10.2020 – 02.02.2021
How did Elena gain a clearer perspective for her professional future?
Hello everyone! My name is Elena and I am one of the lucky ones who has had the opportunity to participate in Erasmus for Young Entrepreneurs. I am a somewhat shy Andalusian who likes to travel and learn about other cultures. I studied sociology for a few years, but I abandoned it to study what I really liked, the theater.
My idea was and is to promote creativity and bring movement to the cultural sector, as well as having the freedom to work how I like and where I really want. Even the thought of being able to offer work to great artist friends, motivated me in this adventure. This idea emerged years ago and I still have it in mind. It was clear to me that it was a very long term plan because I did not have, nor do I have, the money to start this type of adventure, nor did I know how to start it since I do not have any type of business experience.
Last year I decided to go to Paris to study French. But then Covid hit whole Europe and I had to go back to Spain. While I was in Paris, a friend told me about the young entrepreneurs' program and I was excited about all the good things it could bring. During the quarantine I began to work on an idea that had been hanging around my head for years to request the program. I wanted to look for a project in France because I still had my desire to study there and learn the language.
My host was a non-profit association that works to promote interculturality and social integration through workshops and training. When I spoke with my host she quickly convinced me, since they work a lot with forum theater and art therapy for the development of workshops aimed mainly at immigrants and social workers. I saw that I could contribute knowledge to nurture them and that I could take advantage of theirs in art therapy, immigration accompaniment, in education and in how to create an association. It convinced me because due to my economic level and the current situation with the pandemic, I saw my dream of creating a school even further. On the other hand, in the association French, Spanish and English are spoken, since there are people from many different parts working there. In addition, the association works with European projects so the three languages are used according to which other associations we contact. I liked this a lot because I could practice two languages, but be calm if I did not understand something because there would be people who speak my mother tongue. So after our talk we both agreed to create a relationship. I was nervous to start, a nervousness tied to the excitement of starting something new.
My host is a wonderful person. I admire her a lot because knowing her entrepreneurial story I think she fought a lot and she surpassed herself without great help. She is a person who really likes her work and is very involved in it. She has a very good positive energy and she is always thinking about how to improve the work environment and how to improve the trainings. She is authentic and a fighter. I am impressed with how she carries everything forward because there are always a thousand things to do and she is always controlling everything, with the help of her team.
She has helped me a lot from the first moment. She was concerned about making me feel comfortable and about solving my doubts regarding the creation of a business. She has involved me in several projects and always alerted me to formations that were interesting for my training. Many times I felt powerless because I did not know how to do my job well, but both she and other colleagues have always offered me their support and made me see that learning to work in certain sectors takes its time. After a while I started to really feel the desire to create my own association and my host has guided me a lot. She also offered me contacts from Spanish associations that I could talk to, to find out about the system there. She even offered me to participate with them in a European project as a partner association.
I felt very supported and valued, and I am grateful for the opportunity that was offered to me. I consider that our relationship has been successful. There was no problem with anyone on the team and I have worked with my teammates at ease. I have learned a lot from this exchange, even during the second lockdown. This was not a surprise, but I was saddened by working from home. It has been a successful relationship but it could have been more complete without the measures of the new confinement. I hoped to have been able to do more workshops physically and to have been able to relate more with my colleagues without talking about work, but the circumstances are what they are and I believe that my association has proceeded in the best possible way. I was also unable to enjoy Paris much during this time due to Covid.
Thanks to this exchange, I will create my own association where I will be my own boss and will be able to work on projects where I can contribute my knowledge. In addition, it will be easier since my host has provided me with many contacts with which to work as an association. I feel a bit more confident to achieve this and I feel like my host will always be there to help me if I need it. I have also learned how to handle conflicts in a different way and what is the best way to deal with them. I think this will be very useful in my future. I hope I have given my host a new vision of theater. That it will be useful in future workshops and that it allows her to create new dynamics and exercises where the body and the sensory world are more present. We had a series of workshops pending where we were going to teach some different techniques, but due to the confinement, the security measures and the fact that we did not have an adequate space to carry them out, it was not possible for us.
Finally, I will say that this experience is motivating and necessary, since it shows you how the real world works and what the problems are that arise. I highly recommend it, whether you have a clear idea of your project or not, because here you can answer many questions: It has been a pleasure to share my experience and I hope I can encourage someone else to live this opportunity.