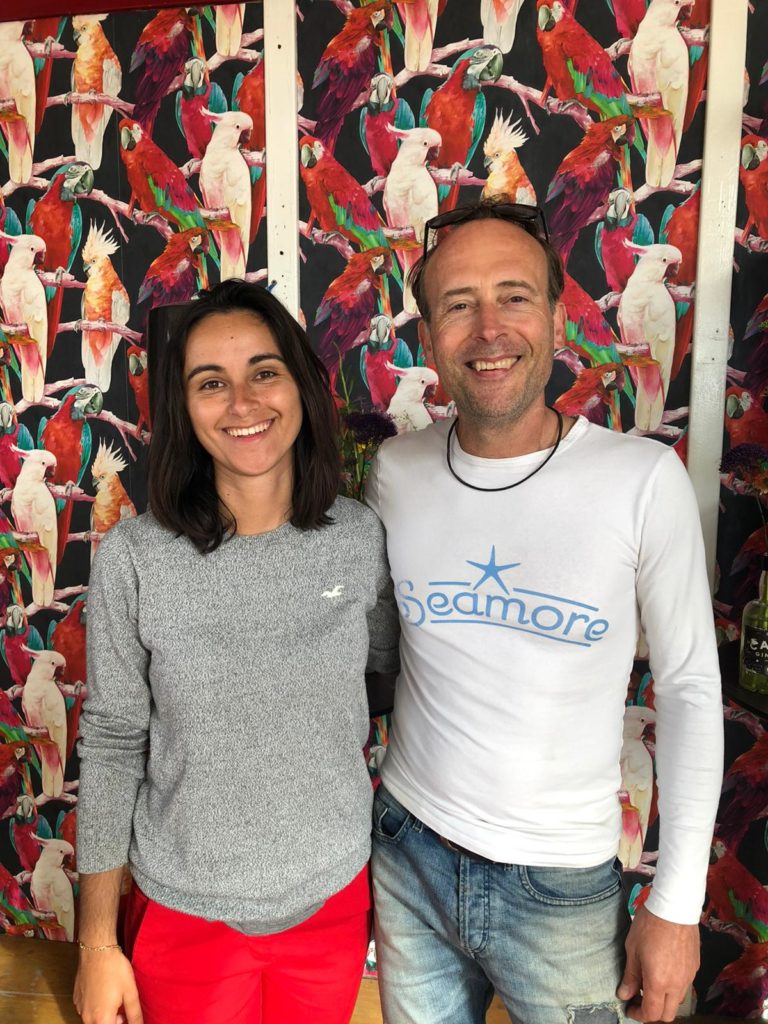 New Entrepreneur
Name & surname: Natalia López Merchán
Country: Spain
Age: 24
Sector of activity: Tourism
Did you already start your business? Yes, but it is on hold and the name has changed
Name of business/website (if any): Yumego, now will be Wiigo
What is your (future) business? App to connect travelers around the world for sustainable trips
Host Entrepreneur
Name & surname: Willem Sodderland
Country: Netherlands
Sector of activity: Food industry
Experience in running a business (in years): +10
Name of business/website: www.seamorefood.com
What is your business? Seamore is leading the revolution to turn seaweed into an everyday food. We create regular dishes with seaweed (pasta, bacon, wraps, chips…)
How did Natalia end up doing the Erasmus for young entrepreneurs program after trying to run her own Startup for two years?
Hi, my name is Natalia, I am from Spain and 24 years old. I started a business in the tourist sector after some previous working experience as an employee. The idea of the company came up with a friend while studying the last year of Business and Management Degree. After, two years running the company, we decided to shut it down due to some money difficulties due to the Spanish system that were stopping us from scale. So, I started to look for opportunities abroad that could lead me to learn how matters like this one we had were done in other countries. My objective was to understand new markets and overall to learn from other entrepreneurs how they have achieved their goals.
A friend of mine, which I met on an Accelerator for startups told me about the EYE program, he did it and he was quite happy with the experience. So, I decided to check out more about it and give it a try. As my friend went to the Netherlands and it was a country that I never visited but heard many good things about I looked for startups to do the program there. I found Seamore in Amsterdam where its founder had a lot of experience in running different businesses.
First, we connected through EYE and we talked about how we could both learn and make the best from the connection in this relationship. Then, we organized the begging of the experience, considering the availability of time and needs.
Since I arrived to Amsterdam in February it is been a great experience. Despite Covid-19, I was able to work in the office every day and thankfully the situation was never as bad in the NL as in other countries, so we still had our freedom to go outside and enjoy the city with the correspondent measures, plus the weather was pretty nice during spring.
This time abroad with an experienced entrepreneur and also with the whole team, has reinforced my skills and my confidence to run my own business. Regarding Covid-19, this situation has actually helped me to see everything in a wider panorama, as anything can damage your plans because there are many things out of your control, you just need to always have a backup ready and be quick on any changes needed.
My host has provided guidance and knowledge through this time. Also, a Marketing growth hacking plan took place while I was in the company, in which I was really involved, because this area is something that I always liked and studied, so I was helping applying what I knew and also it was a great opportunity to learn new skills.
Meanwhile I supported my host to achieve better online sells through the website, while improving it and sharing my knowledge with the team.
Concluding, it has been a great experience that I totally recommend to any entrepreneur that is seeking to learn abroad and grow his network.
Concluding remarks
Natalia López Merchán (NE): "After some experience in running a start-up for two years, I had the opportunity to land into a 5 years old start-up. I saw many similarities but mainly I learned many things on how they work that I can use for my own company in the future. Basically, that is what this program is about, putting together entrepreneurs so they both can learn and help each other. So I totally encourage other entrepreneurs that seek for learning and also wide their network to do this program."
Willem Sodderland (HE): "Natalia has been with us since February and we could not be happier. Her knowledge of Lean Canvas was impressive, and her skills improved during this time, she really helps us in our day-to-day work with a lot of professionalism. Being part of this program gives us a more international team and different perspectives. I recommend every startup to participate in this program."