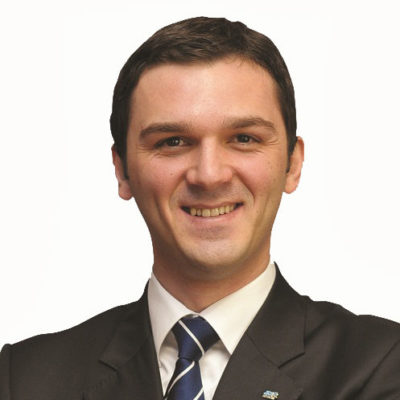 İSMAİL HAZNEDAR
Junior Chamber International, Istanbul
Born in 1976 in Tetovo, Macedonia, Ismail Haznedar graduated from Middle East Technical University (METU), earning a Bachelor of Sciences degree in Business Management in 2000. He also completed Masters Degree on Marketing from Marmara University in 2005.
Ismail Haznedar is 2016 JCI Senate Chairman and Former President of the Junior Chamber International (JCI).  Haznedar joined JCI Eurasia Istanbul in 2005. He became Chapter President in 2008, honored as Most Outstanding President of the Year, National General Secretary in 2009 and National President in 2010, with highest growth rate in Europe Area. He served as JCI Vice President assigned for Europe during 2011 and UN Affairs Commissioner for Europe during 2012. In year 2013 was appointed as Chief Executive Assistant to the President and in 2014 he served as Executive Vice President assigned for Europe. Haznedar was elected as 2015 President of the JCI. He is honored to be a life time member and Senator, is Foundation Member and Certified National Trainer (CNT).
Ismail Haznedar is strategist and entrepreneur, with a successful professional experience in scaling up businesses and new initiatives via strategic growth modeling. He works as Managing Director of a Strategic Consulting Company and supports new start-ups with a network as a Mentor and Angel Investor at JAIN Global Angel Investing Network.
Ismail Haznedar serves as Honorary President of the Strategic Planning Society (SPS) in Turkey as Fellow Member of SPS
,is Certified Management Consultant (CMC) and Board Member of Turkish Business Angels Association (TBAA).
He resides in Istanbul, Turkey, with his wife,and their daughter and Kaan. He speaks English and Turkish.