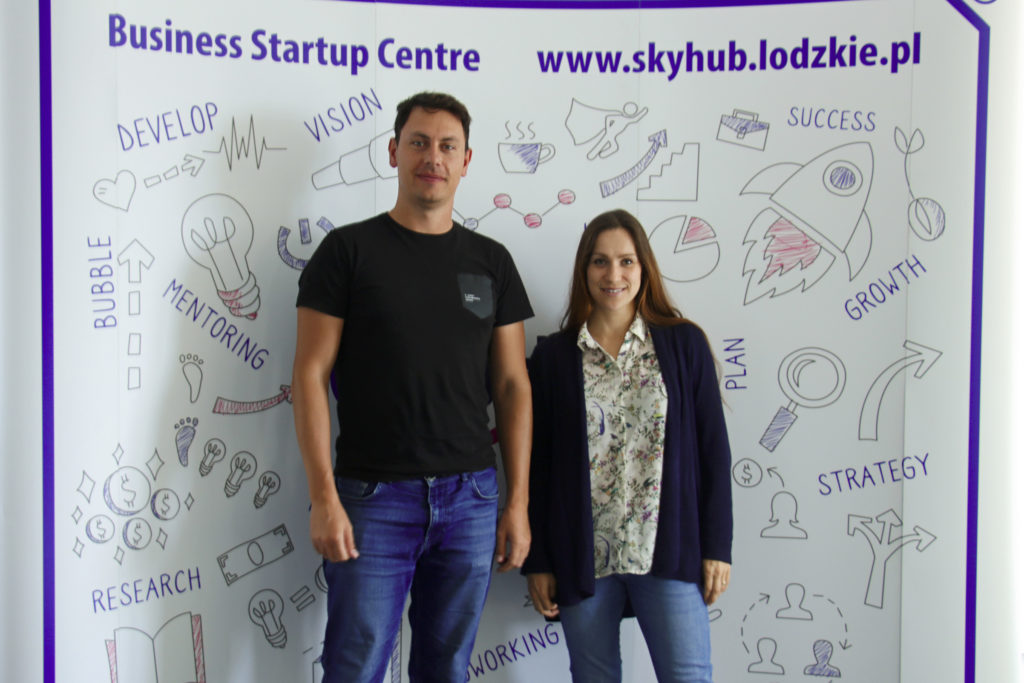 Irina: I got familiar with software for web developing for example Aptana, WordPress. I got the knowledges in working on a project and team work, SEO. It was good experiences and great opportunity for NE to beginn in the world of business, to know working and living abroad, to get knowledges in your sector of activity and get a contacts for future collaborations.
Websites:
behance.net/designme-irina
webolab.pl

Maciej: I had a possibility to cooperate with Irina when we were working on few website layouts, some of them will be surely used in my projects. Irina told me and explained a lot about website User Experience. Thanks to Irina I have realised that I should more often think about users – website should be easy to use, simple and readable, focusing user's attention on the most important information. Irina told me some important information about Austria market.
I would like to encourage other entrepreneurs to participate in EYE program because it is great opportunity to exchange knowledges, improve language and soft skills, get some information about other markets and meet interesting people.
I think that experienced entrepreneurs could find motivated, fast learning people in EYE program. Whenever I had any questions IO was very helpful. I hope that we can continue our cooperation with Irina after EYE program.
Irinas Story:
Maciej Kubik is my HE. He lives in Lodz in Poland. He is a programmer and web developer. He is self-employed and works as a programmer, web-developer. He wants to develop his business and offer design of web sites, SEO. He learns much and looks for a team with who he can offer his clients the wide services around web.
Irina Pogonina from Austria is photographer, retoucher, graphic, web designer. She creates web sites and print media. She makes the photos to shine. She loves images and can improve any of them. She photographer for business, makes post production of these photos and creates a lay out of web site or print media. So the customers can get under one roof photography and design. To offer the customers full services she would like to cooperate with web developer.
Maciej needs partner in design and Irina in web development. They could make a good long-lasting cooperation.
As I have registered myself as entrepreneur I got many materials from Austrian economical chamber. In one magazine I found the advertisement of Erasmus project. I have already heard about Erasmus from my husband who works as a teacher and made a change with one school from Germany. I was pleased to know that Erasmus is for Start-ups too.
It was very difficult for me to start my own business because I was excluded from the life cause of two pregnancy, movement to new region where I didn't know any people and I must start everything from the beginning. I thought Erasmus is great opportunity to find a partner, to learn to run your own business, get familiar with a work abroad cause my customers can be from all over the world. I applied for this project.
It was difficult to find HE. Many HE don't answer or answer but then disappear. I had many interviews. It is often so that they want that you come for three or six months what was for me impossible because I have children. The search lasted about four months. My relationships were already excepted from one HE. I made working plan ready, my mom bought tickets to come to care of my children while I am away and HE suddenly canceled the relationships cause he had a feeling in stomach that it will not work. Am I going to marry you? I come only for one month to work. Nothing more. These HEs are really weird and it is difficult to find a normal, responsible person. I don't understand how they can run the business if they could not answer a mail.
I was glad when Maciej wrote me. We talked per Skype. I was glad that he answers my mails at all, is in contact and doesn't despair. We could make a good collaboration because we could complete each other. I make web design, he develops it. We could learn from each other and work in the future remote. It was ok for him if I come only for one month. We made an agreement fast.
I came to Lodz. I was a bit shocked. It is very different from Austria. It is dirty, not beautiful, many destroyed buildings. There are many dirty people who don't work, don't do anything only hang around in the city. It stinks often. My shoes were so dirty that I washed it with soap. I wear these shoes if I go with my children for a walk in the forest, in fields but they were never so dirty. I was glad that my change lasted only one month. I wouldn't like to live here half of a year. But there were good sides. It was cheaper as in Austria. I could go to fitness studio almost every evening and it was cheaper than in Austria one time a week. Food was cheaper too. The co-working center is free of charge here. It is really great and really support for start-ups. I wanted to go to co-working center in Austria but I couldn't pay for it. It was very expansive.
So we could meet in co-working center with WiFi, caffe and other office stuff. We got even a closed meeting room, where we could talk and work. Without charge. It was really good surprise.
We worked on web sites. Maciej showed me software for web developing for example Aptana, Wordpress. I shared with him my knowledges in design. How to make a web site simple for users, how to make a web site which is effective and sales. I told him about new trends and showed the future of design.
We have agreed that we will collaborate. We launch a common project. We will offer our customers extensive web services which contains weg-design, web developing and programming, images retouching, SEO optimisation, animations, photography of photo content for web site. We will make simple image pages or one page web sites, landing pages and complicated web-sites such as web-shops. We offer a special price for our first customer. We would like to make a special offers for start-ups. Don't hesitate to contact us. Let's make our first project together.